T-51 Rubber Block Track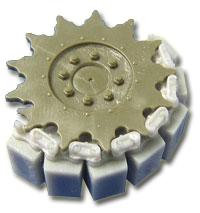 Our T-51 Rubber Block set sells for $21.95 plus postage .

T-51 Rubber Block information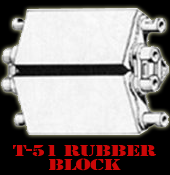 The second generation rubber block track that was the standard track early in the War. It was commonly found on early M4s, M4A1, M4 Composite, early M4A2 Sherman, M7 Priests, M10, and M12s. T51s must be considered one of the most universal tracks seen on Shermans and were very commonly found on just about all models and all fronts with and without duckbills attached. T51s were nonreversible in order to extend track life.