Worn T 48 Rubber Chevron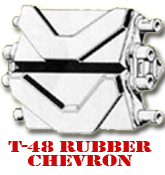 Our worn rubber chevron tracks sets sell for $21.95 plus shipping.
Worn T 48 Rubber Chevron info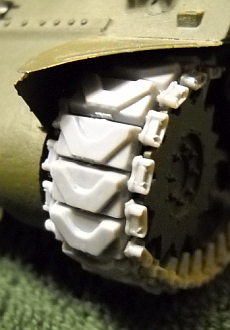 Rubber tracks did not retain their new look for very long in combat. These tracks wore down from sustained use and were damaged by running over battlefield debris, doing pivoting turns, hitting curbs, etc. Our revised Worn T 48 track set depicts this typical wear to the chevrons. Because we believe that damage is a matter of individual taste, we have revised this track set to display a base wear level of the track chevron and allow the modeler the freedom to customize the severity and the pattern of damage desired for each model using their craft knife, gouges, or other modeling tools to create the pattern of damage they desire on the track shoes.