Worn WE 210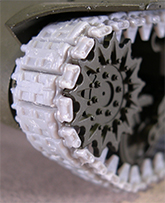 Our rubber chevron tracks sets sell for $21.95 plus shipping.
WE 210 Track information
WE 210s track shoes were introduced during the North Africa Campaign. When the Allies invaded Italy, many units still had Shermans shod in WE 210 tracks. The Allies found that Shermans equipped with the WE 210 tracks wore then down quickly when operating in the predominantly rocky terrain of Italy. Panda is pleased to introduce a new track set that depicts this typical wear to the Double I block pattern. Further, while we will continue to offer a Worn WE 210 track set in our line, we are introducing this track set by offering a very limited edition Worn WE 210 track set that features delicately hand engraved surface damage from various cuts and gouges sustained on the battlefield.