Canadian Dry Pin Tracks
Our Canadian Dry Pin tracks sets sell for $27.95 plus shipping.
Canadian Dry Pin Track
Information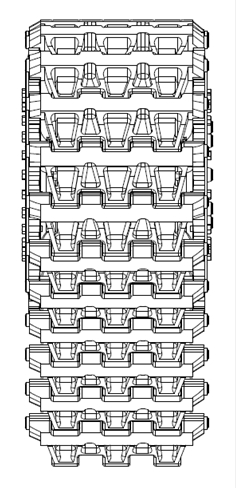 The Canadian Dry Pin track was designed for the M3/M4 based tanks Canada developed during World War II. While the webbed exterior of these cast manganese steel links bore a very strong exterior resemblance to the tracks used by the German medium tanks of the period, the interior pattern was totally different. Instead of a German single center guide, the Canadian tracks retained the US two guide teeth system. Also like their German counterparts, they used a single steel dry pin to connect the links. A 17 tooth sprocket was fitted in place of the American pattern sprocket. These tracks were used on the Sexton II self propelled gun as well as the Grizzly (M4A1) tanks. While it appears that the British army in particular frequently replaced the Canadian tracks with various American track patterns, Sexton IIs with Canadian tracks were still used in the ETO and even seen postwar.