T 48 Rubber Chevron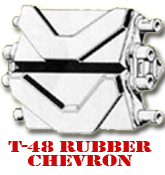 Our rubber chevron tracks sets sell for $21.95 plus shipping.
T 48 Rubber Chevron information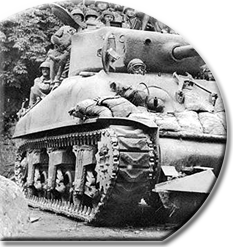 One of the most common tracks found on Shermans, particularly in the ETO. This was a molded rubber track characterized by a wide chevron pattern. This pattern gave good traction in off road conditions while being easy on paved surfaces and was quieter than many other styles; it wore down fairly quickly and tended to disintegrate in the hot, wet jungle conditions found in the Pacific Theater. This track is considered the most common rubber tracks found on Shermans and was found on most models of the Sherman, especially the Jumbos with duckbill connectors attached.